Cool Centers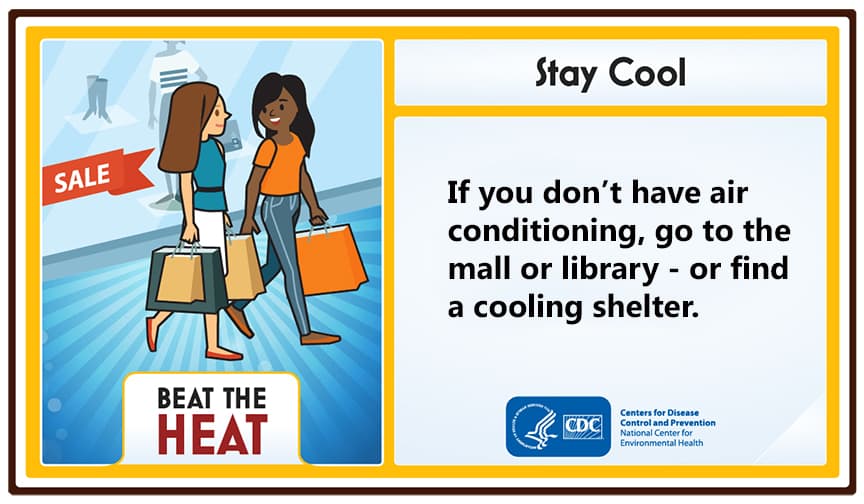 The Imperial County Public Health Department encourages Imperial County residents to take the appropriate precautions in the summer in order to prevent heat-related illnesses. Locally thirty Cool Centers are available throughout Imperial County where individuals can cool off during the hottest parts of the day. When temperatures rise, officials notify healthcare professionals, schools, senior centers, nursing homes, and businesses on ways to reduce heat-related illnesses. Officials encourage residents to check on neighbors such as the elderly, disabled or young children that might be more vulnerable to heat-related illnesses. Pet owners are also encouraged to protect their pets from the summer's heat by always keeping plenty of fresh water available for pets, providing access to a shaded area and never leaving animals in a car during the summer months.
There are several steps individuals can take to protect themselves during extreme hot weather. Residents are urged to take precautionary measures to prevent heat-related illnesses, such as heat cramps, heat exhaustion, and heat stroke. These steps include:
Dress in lightweight, loose-fitting clothing,
Drink a variety of fluids, including water, fruit juice, and sports drinks,
Check on neighbors, especially seniors, children, and neighbors who live alone,
Keep physical activities to a minimum during the hottest part of the day,
Stay indoors and out of the sun during the hottest part of the day,
Use fans as appropriate,
Use cool showers, baths, misting and washcloths,
Avoid hot foods and heavy meals.
Individuals are advised to stay indoors with cool air during the hottest hours of the day and be even more vigilant when they do spend time outdoors. Going to air conditioned areas is an alternative when facing extreme heat, however, for those who live in remote areas this is not always possible and a number of community agencies come together in the summer to provide cool centers that are conveniently located.
The following are local cool centers:
Brawley
Calexico
Calipatria
El Centro
Heber
Holtville
Imperial

The IV Expo (Will open when notice is received from Governor's office)

Niland
Ocotillo
Salton City
Seeley
Westmorland
Winterhaven
Additional Resources: