Misión
La misión del Departamento de Salud Pública del Condado Imperial es promover, proteger y apoyar la salud de las personas, el medio ambiente y nuestras comunidades.
Visión
Una comunidad activa donde cada persona es saludable y próspera.
Valores
COMUNICACIÓN:

Comunicarse de manera efectiva escuchando activamente y compartiendo información para fortalecer las relaciones y promover oportunidades para el diálogo y futuras asociaciones.
INOVACIÓN:

Implementar nuevas ideas y tecnología efectiva para avanzar en el estándar de excelencia, satisfaciendo las necesidades cambiantes de nuestra comunidad.
RESPETO: Trate a todos los miembros de la comunidad y colegas con cortesía y profesionalismo.
EQUIDAD:

Apoyar los derechos de todas las personas a un entorno que optimice la salud, una atención médica accesible y asequible de alta calidad y oportunidades justas para mejorar su salud.
INTEGRIDAD:

Actuar con una conducta ética intransigente y mantener los más altos estándares de honestidad, responsabilidad y transparencia.
Ubicación e Información de Contacto:
Departamento de Salud Pública del Condado Imperial (ICPHD)
935 Broadway, El Centro, CA. 92243
Tel: (442) 265-1444 Main Fax: (760) 352-9933
Horario: Lunes - Viernes (excepto días feriados)
8:00 am a 12 pm, 1:00 pm a 5:00 pm
Janette Angulo, M.P.A., Director
Danila Vargas, M.P.A., Deputy Director for Health and Supportive Services
Stephen Munday, M.D., M.P.H., M.S., Health Officer
Jeff Lamoure R.E.H.S., Deputy Director for Environmental Health
Rosyo Ramirez, M.P.A., Deputy Director for Community Health Division
---
El papel del Departamento de Salud Pública del Condado Imperial (ICPHD) es proteger a la comunidad de enfermedades, dolencias y lesiones y mejorar el estado general de salud de los residentes mediante la prevención de enfermedades, discapacidades, muertes prematuras y la promoción de buenas prácticas de salud. El Departamento de Salud Pública del Condado Imperial es una agencia gubernamental del condado supervisada por la Junta de Supervisores del Condado de Imperial. Proporciona servicios y programas separados y está físicamente separado de los Servicios Sociales y la Salud del Comportamiento. El Departamento de Salud Pública sirve a todos los residentes del Condado Imperial y trabaja en estrecha colaboración con hospitales locales, clínicas comunitarias y proveedores médicos para compartir información de salud pública oportuna y actualizada con las agencias asociadas.
El Departamento de Salud Pública del Condado Imperial se divide en cuatro divisiones, que incluyen las siguientes:
Administración
Salud Comunitaria
Servicios de salud y apoyo
Salud Ambiental
---
Los programas y servicios ofrecidos dentro de las Divisiones incluyen aquellos tales como:
Administración:
La Oficina del Director y los Subdirectores; Oficial de Salud Pública; Director Médico; Planificación y Evaluación de Programas; Información pública.
Salud Comunitaria:
Promoción de la Salud; Servicios Médicos de Emergencia / Preparación para el Bioterrorismo; Salud Materno-Infantil y del Adolescente (MCAH).
Servicios de salud y apoyo:
Laboratorio de Salud Pública; Servicios Clínicos; Gestión de información de salud / certificados de nacimiento y defunción; Presupuesto y Fiscal; Gestión de Instalaciones, Recursos Humanos; Epidemiología.
Salud Ambiental:
Protección del Consumidor Ambiental; Servicios de Salud Ambiental; Control de vectores; Control de animales.
¡Ven a visitarnos, estamos aquí para servirte!
---
Aviso de privacidad:
Documento de Derechos Civiles:
Aviso de Salud Ambiental sobre el Derecho a Apelar: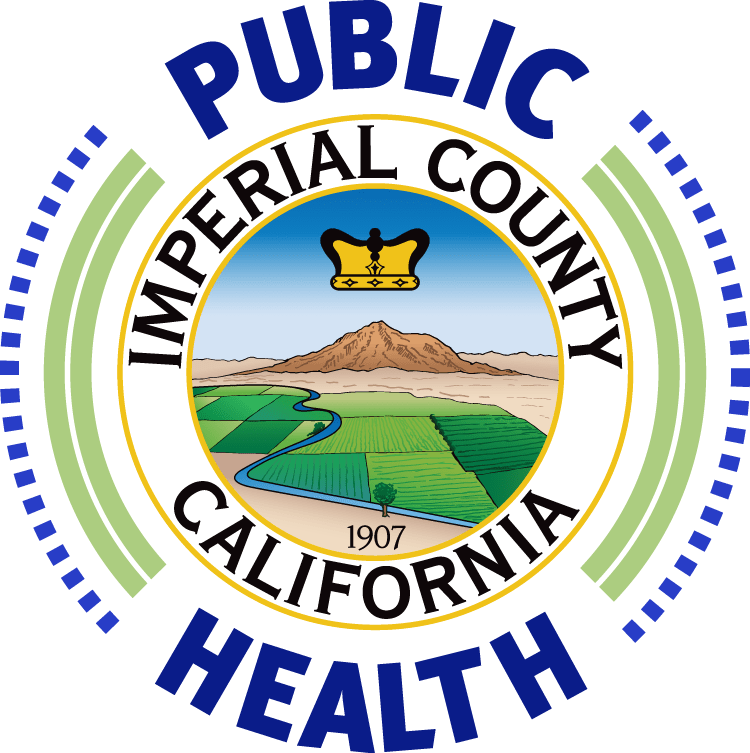 The mission of the Imperial County Public Health Department is to promote, protect, and support the health of people, the environment and our communities
An active community where every person is healthy and thriving.
Communicate effectively by actively listening and sharing information to strengthen relationships and promote opportunities for dialogue and future partnerships.
Implement new ideas and effective technology to advance the standard of excellence, meeting our community's changing needs.
Treat all community members and colleagues with courtesy and professionalism.
Support all people's rights to an environment that optimizes health, accessible and affordable high-quality healthcare, and fair opportunities to improve their health.
Act with uncompromising ethical conduct and maintain the highest standards of honesty, accountability, and transparency.
The Office of the Director and Deputy Directors; Public Health Officer; Medical Director; Program Planning and Evaluation; Public Information.
Health Promotion; Emergency Medical Services / Bioterrorism Preparedness; Maternal Child and Adolescent Health (MCAH).
Public Health Laboratory; Clinical Services; Health Information Management / Birth and Death Certificates; Budget and Fiscal; Facilities Management, Human Resources; Epidemiology.
Environmental Consumer Protection; Environmental Health Services; Vector Control; Animal Control.
Privacy Notice:
Civil Rights Document:
Environmental Health Notice of Right to Appeal: