Emergency Medical Services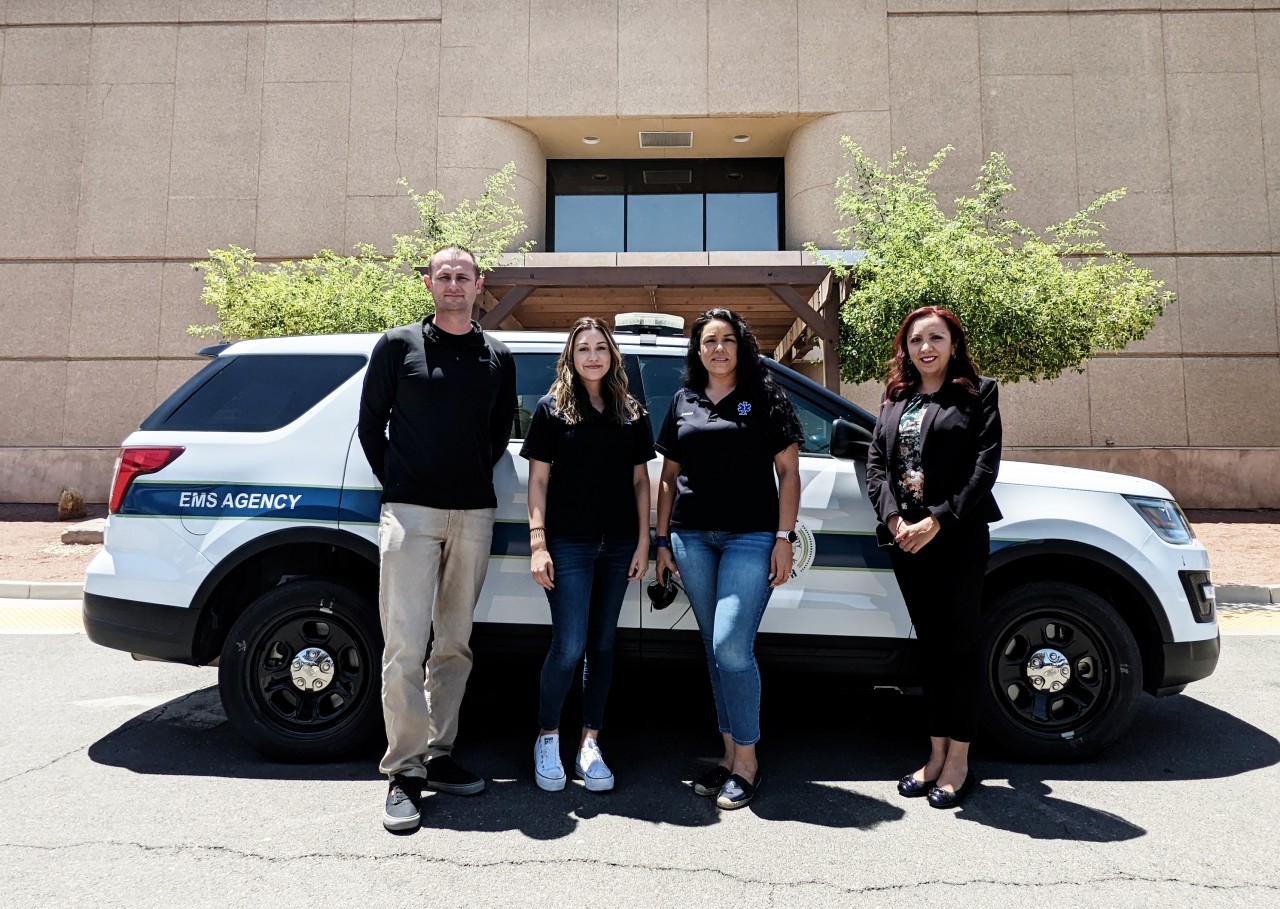 La responsabilidad principal de la Agencia de Servicios Médicos de Emergencia (EMS) es planificar, implementar y evaluar el sistema de EMS en el Condado de Imperial. El sistema EMS incorpora compañías de ambulancias, hospitales, departamentos de bomberos, departamentos de policía y otros proveedores públicos y privados en un sistema integrado y coordinado de servicios. La misión de la Agencia EMS es garantizar la más alta calidad de atención médica de emergencia para los residentes y visitantes del Condado Imperial.
Agencias locales participan en simulacro de respuesta de emergencia
Proceso de solicitud (09/01/2020)
Lea el siguiente aviso del sistema para el proceso de presentación de solicitudes:
EMS System Advisory #20-019
The EMS staff at the Imperial County Public Health Department consists of the EMS Medical Director, the EMS Manager, the EMS Coordinator, the Public Health Emergency Preparedness and Community Emergency Response Team (PHEP) Program Coordinator, and the Hospital Preparedness Program and Medical Reserve Corp (HPP) Coordinator.
David Creiglow
EMS/Disaster Preparedness Manager
Imperial County Public Health Department
935 Broadway, El Centro, CA 92243
davidcreiglow@co.imperial.ca.us
Kathy Staats
M.D. Medical Director
Imperial County Public Health Department
935 Broadway, El Centro, CA 92243
katherinestaats@co.imperial.ca.us
Mayra Ibarra
Hospital Preparedness Program/MRC Coordinator
Imperial County Public Health Department
935 Broadway, El Centro, CA 92243
mayraibarra@co.imperial.ca.us
Karrah Caldwell
Public Health Emergency Preparedness Coordinator
Imperial County Public Health Department
935 Broadway, El Centro, CA 92243
karrahcaldwell@co.imperial.ca.us
James Pintus
Emergency Medical Services Coordinator
Imperial County Public Health Department
935 Broadway, El Centro, CA 92243
jamespintus@co.imperial.ca.us
Sterling Wray
Emergency Medical Services Coordinator
Imperial County Public Health Department
935 Broadway, El Centro, CA 92243
sterlingwray@co.imperial.ca.us
Policy #4240 - Air Ambulance Activation
Effective 10-10-22
Policy #1800 - Intranasal Naloxone by Public Safety First Responders
Effective 10-10-22