Prenatal Care Guidance Program
PCG strives to promote the health of pregnant women and their babies, improve birth outcomes, strengthen parent-child bonding and infant development and create a healthy environment for the entire family.
Prenatal Care Guidance (PCG) provides education, support, and resources to pregnant women and their families.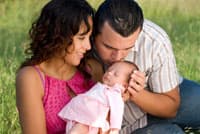 Who is Eligible for PCG?
PCG serves low-income, Medi-Cal-eligible pregnant women and their babies who reside in Imperial County. Women must be pregnant at the time of referral.
What Services Does PCG Provide?
The Perinatal Services Coordinator builds a relationship with new mothers and families to:
Assist women and their children in gaining access to health coverage and health care
Promote women's health before, during, and between pregnancies
Support parents to nurture and bond with their babies
Strengthen parents' understanding and ability to support the development of their babies
Link families to appropriate resources and services
All services are free and provided in English and Spanish.
For additional information you may call:
Kitty lee Gay, RN
Perinatal Services Coordinator
935 Broadway St., El Centro, CA 92243
(442) 265-1896
Fax (442) 265-1480
kittygay@co.imperial.ca.us