Adoption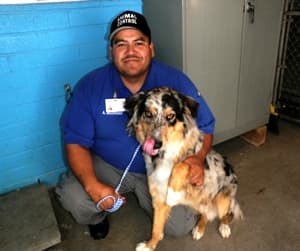 Where can I adopt a pet?
In Imperial Valley, if you wish to visit us at our shelter in El Centro to adopt a furry friend, our address is 1329 South Sperber Road, El Centro, CA 92243 (Behind the Imperial County Sheriff's Department, southwest side and at the end of Sperber Road).
Adoption Hours:
Monday through Friday 10am to 3pm
Saturday 8am to 12pm

The State of California requires that dogs and cats adopted from local shelters be spayed or neutered and the County offers this service through its low-cost spay/neuter program.
$35.00 for males and $65.00 for females
$6.00 rabies vaccination of dog or cat 4 months & up
$20.00 adoption fee
Millions of dogs and cats are destroyed annually in shelters across the country because there are no homes for them and many of these animals are pure breeds. Please consider adopting from our shelter and saving a life!

If interested in viewing some of the animals available for adoption please go to Animal Care and Control and click on Dogs Available for Adoption or Cats Available for Adoption.
Additional Resources: