Adoption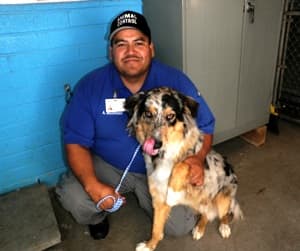 Where can I adopt a pet?
The Animal Care adn Control Program offers adoption services for pets without a home. If you are interested in adopting or would like to visit the shelter, find us at:
1329 S. Sperber Rd.
El Centro, CA 92243
Adoption Hours:
10am to 3pm - Monday - Friday
8am to 12 pm - Saturday

The ACCP requires that dogs and cats adopted from local shelters be spayed or neutered. ACCP offters this service through its low-cost spay/neuter program.
Adoption: $20
Spay: $65
Neuter: $35
Rabies Vaccine: $6
Millions of dogs and cats are destroyed annually in shelters across the country because there are no homes for them and many of these animals are pure breeds. Please consider adopting from the ACCP shelter and saving a life.

Animals currently available for adoption can be viewed here: